Comm+D has returned to the Folsom Library to help you with your communication project!  Our mentors welcome projects at any stage: come in before your work is finished to get the most benefit. We will always focus on the issues you feel are most important to completing your assignment effectively. 
Also keep in mind that, if you wish, Comm+D can notify your professor of your visits to the Center if the visits are required for your class or if you'll receive extra credit for attending one of our sessions.  Otherwise, we will keep your visits confidential and will use any records for statistical purposes only.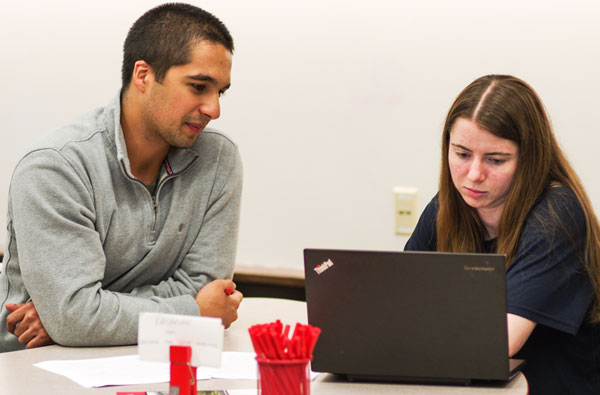 ** Currently all appointments have returned to in-person meetings on the lower level of the Folsom Library. **
Before coming to the Folsom Library to discuss your project with a Comm+D staff member face-to-face, take these few simple steps to prepare for your session. 
Think about what you would like to focus on in your writing, and prepare any questions you may have about the work.
Upload a copy of your paper, and make sure it is easy to read and revise.  There is no page limit on projects, but because you may not have enough time to fully discuss a lengthy project in a single session, keep in mind that you may need to schedule additional sessions and allow time to do some revising on your own.
Also upload any relevant assignment sheets or a description of the assignment, as well as any notes or outlines you may have made, especially if you are just starting the project.
If you're working on a group project, Comm+D strongly encourages you to come in with all of your other team members at the same time if possible, so that all of you can discuss your project with -- and get the same feedback from -- the Comm+D staff member as a unit.
To Start Your Appointment
Return to our website: www.commd.rpi.edu, and click on the square for your appointment. Then come to the lower level of the Folsom Library at the time you selected where the Comm+D tutor you made your appointment with will be waiting to help you.
When you first show up for your consultation session, the Comm+D mentor or teaching assistant will greet you and ask for some background on your project, and any specific concerns you may have. Keep in mind that the mentor may not be able to address your entire project, so prioritize your main concerns so that the mentor can help you with those areas first.
If you are working on a written piece, the mentor will ask if you are comfortable reading your own work aloud, or if you would prefer having it read to you. Listening to your work can often give you a new perspective on it, and can be very helpful for determining the tone and pace of your writing as well as for finding simple typos, but if you are uncomfortable with this, just let the Comm+D mentor know.
For those working on a design project, the mentor will start by looking over any work in progress, asking questions and sharing their impressions; this process can help you see how viewers might possibly react to and interpret your work.  You should also feel free to tell the mentor if you have particular areas on which you would like to focus.
If you are working on an oral presentation, the mentor will talk with you about options for discussing any written or visual materials, such as your outline or slides, or practicing your presentation. In either case, you and the mentor will approach your work in small chunks, and you can always ask any questions you might have during the process.
SOME IMPORTANT NOTES:  Please keep in mind that although each appointment may be scheduled for a 30- or 60-minute block of time, each consultation session really only lasts for 25 or 50 minutes, respectively. This allows your Comm+D mentor to complete the Client Report Form, prepare for their next conference, and attend to any personal needs between sessions. 
Also keep in mind that if you plan to discuss your project over the course of more than one visit, you may want to use our scheduler to request the same mentor so that that person will already be familiar with your work.